About Special Viewer
About Special Viewer
To download and view a product that requires the special viewer, you need to install special software according to its category.
You do not need to install the software if you view it in browser.
Operating Environment and System Requirements
You can view items which require the special viewer by downloading or browser streaming (member only).
Download and view
Following operating environment is required to download and view items which require the special viewer.
Windows
OS Platforms

Windows 7 (32/64-bit version)
Windows 8.1 (32/64-bit version)
Windows 10 (32/64-bit version)
* As Microsoft has ended support for Windows XP, Windows Vista and Windows 8, our support for these OS has ended as well.
The software may continue to run without issue; however, DLsite does not offer any support for it.
* Internet connection is required at the time of authentication.
Stream in browser
* Member account is required
If you are a member, you can view items in browser via DLsite Streaming App, [ DLsite Play ].
(Games are not supported.) For more details, please refer to [ About Browser Streaming ].

Download Viewer
Viewers for Windows
After you extract the product file, please find an html file ending with "_readme.html".
The necessary software for the purchased products and other important information is indicated in this file.
When the download is complete, double-click the downloaded file to install the software.
| Viewer name | File extension | Necessary software |
| --- | --- | --- |
| DLsite Viewer | .dlst | |
| Cypher Guard for PDF | .cpd | You need Adobe Reader (free software) separately. |
About DLsite Viewer
Authorization and Viewing
Authentication is required only the first time you view a product. (When you double-click the product file, the following window will appear.)
Please enter your DLsite login ID and password. If you choose to save your login ID and password, they will no longer be requested when you view the product.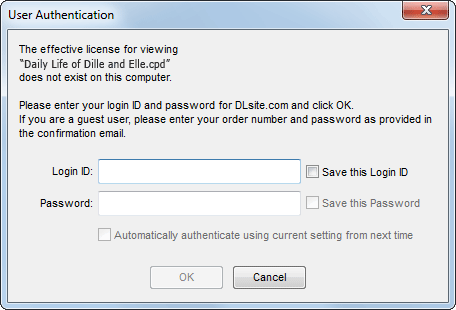 Notice
Products which require the special viewer have the following limitations to prevent unauthorized redistribution.
They are viewable only on the PC in which you authenticated the file(s).
Capture and print functions of images are disabled. (Although printing or capturing images may be possible with a demo version, you cannot use these functions with the purchased version.)
The files are not viewable via Remote Desktop or virtual operating environments such as Virtual PC.
The files are not viewable on Windows OS that is installed on virtual PC software (VMware, crossover, etc.).
Operation When Using Anti-Virus Software
Sometimes, anti-virus software such as avast! or Norton Internet Security may falsely recognize the software as a virus and prevent you from downloading or browsing the file(s). If this is the case, please try downloading or browsing the file(s) with your anti-virus software temporarily turned off, or manually set allowances for the software.
Especially when you are using free anti-virus software such as avast!, AVG, ANTIVIR and COMODO, please confirm the normal operation of the software prior to making a purchase.
Troubleshooting
If you have problems in viewing the product, please check [ Notice ] and try the following.
You cannot view the product if the product file is compressed. Please refer to [ Extraction Tools ].
Restart your OS and try again.
On Windows OS, you may need to execute the file with administrator privileges.
Try starting the necessary software and the product file by right-clicking on the icon to choose "Run as administrator".
If you get an error...
Please check if the error message/code you received is included in the list of [ Special Viewer ] on the Help page.
If the above does not solve the problem, please describe the error message or displayed screen details and [ Contact Us ] for assistance.
You can copy the entire error message by holding the [CTRL] key and pressing the [C] key when the window is focused (displayed on top of other windows).