About DLsite Affiliate Program
If the sale is made via your links... You get also paid for ALL purchased products!
Not just the products you recommended!

Example: You recommend Product A
> Product A is purchased via your link → 10% reward
> Product B is purchased via your link → 10% reward
* Incentives are generated for all products on sale at DLsite.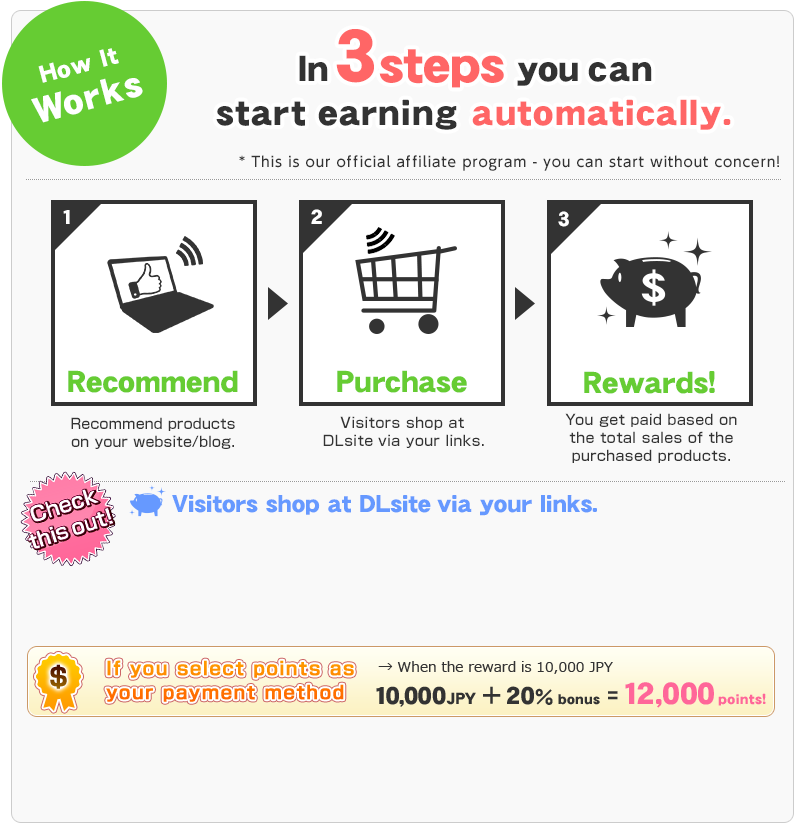 Notice
Affiliate link tags can be customized within the bounds of common sense (such as style properties).
Please do not alter the information in the "a href" portion of the link tag, as it may not function correctly.
We put restrictions on affiliate links using inline frames (iframe).
If you wish to use inline frames for your affiliate links, please contact us with the URLs of the pages where these frames are displayed.
You may use an image other than the DLsite banner (but not for product images), however this may result in discrepancies due to changes or deletion of content.
You may not modify product images, which applies to main images, thumbnails, mini images and samples. (They may be scaled if you respect the original aspect ratio.)
The rewards become void for the purchase of items by affiliate partners themselves via their own affiliate links.
About creating an affiliate ID
The following cases will result in the rejection of your application:
Websites that infringe copyright law (including image boards)
Websites that are not public
Blogs with few or no postings, or the theme is unclear
Websites that are membership-based and require signing in to display the main content
Websites that do not match with contents of DLsite